We believe that the church exists beyond the four walls of a church building. During the Fall and Spring months, our Community Groups meet on a weekly basis in neighborhoods throughout Hampton Roads for dinner and discussion.
Because our church is pursuing a multi-generational and multi-cultural expression of God's kingdom, our groups are based on geography and relationships. We're a family and we want everyone to feel welcome on Sundays and in our Community Groups.
I
nterested in becoming a Group Leader?
What is a Community group?
At Anchor, community groups are the place where discipleship and care takes place. It is where we encourage one another to be worshipers of our Lord. It is where the body becomes the body, loving, caring and challenging one another. As well, it is within community that we engage culture and incarnate Jesus in every corner and pocket of our city.
Why should i join a
community group?
It is a place where we encourage and challenge one another in our journey to know Jesus in deeper and more personal ways. In Community Groups, people talk through life issues, eat together, pray together, laugh together, struggle together, and serve others as we are transformed by the grace of God in our lives.


What To expect at a community group?
Each Group is unique as the group reflects the neighborhood in which it exists. However, you can expect a weekly gathering that involves food, conversation, prayer, discussion for applying the Bible to practical living, and service in the neighborhood. Community groups are much more than a Bible study; they are a community, a place where we can laugh, cry, work and play together for the glory of Jesus.
Find A Neighborhood Near You
Each letter next to the neighborhood name corresponds to the above map.
(23320)
Kyle & Sarah Hutter
Wednesdays at 6:00 pm
(23462)
Eric & Lindsay Johnson
Tuesdays at 6:15 pm
(23455)
Reggie & Melanie Rivera
Wednesdays at 6:00 pm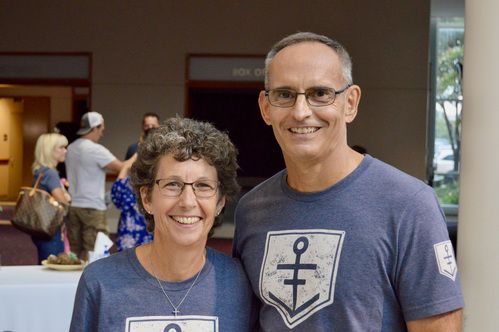 (23455)
Dave & Jennifer Wagner
Wednesdays at 6:00 pm
(23455)
Greg & Sarah Lee
Sundays at 4:00 pm
(23456)
Matt & Kimberly Fisher
Tuesdays at 6:00 pm
(23456)
Matt & Katey Toller
Sundays at 5:00 pm
(23452)
Ryan & Karey Baraga
Sundays at 5:00 pm
(23452)
Steve & Genna Swartz
Thursdays at 6:00 pm
(23322)
Rich & Jen Hartney
Sundays at 4:00 pm
(23320)
Clay & Mariana Templeton
Sundays at 4:30 pm
(23703)
Casey & Brenda Jolly
Sundays at 5:00 pm
A Life Group addresses various stages of life & serves as a bridge to the normative experience of sharing life together as a family in the context of a Community Group.
This group is made up mostly of "empty-nesters," both married and single. The Legacy Group meets one to two times a month. Their name is their aim – to leave a legacy to their kids, grandkids, and the church.
All college-aged and young adults are welcome to attend our College Group get-together on Sunday, September 19th at Gather in Town Center. This group is for any young adult, age 18-25. Reach out to us if you're interested!
This Group is specific to couples who are dating or married. The Couples Group meets on Wednesday at 6:30pm and will walk through a 6-week study on marriage beginning September 29th. Contact Brian & Jen if you'd like to attend!